Crisis Management
The CL360 Crisis Management app empowers crisis responders with real-time data at time of incident. Users can collaborate in a digital chatroom within the platform, keep track of key decisions, and generate Situation Reports as needed. Kanban boards help to manage multiple swim lanes, high-level tasks, progress, and stakeholders; and can simply be dragged and dropped from one stage (pre-crisis) to the following stage (activation). Visual cards present leaders a holistic picture of all activities along with profile cards of those owning the milestones. Pre-configured or customized Crisis Playbook templates are easily modified by severity, tiers, or type of crises with no coding required. Outputs and alerts are auto-generated based upon activities and escalations, and our Microsoft connector allows for a visually impactful output for quicker decision-making by senior leadership.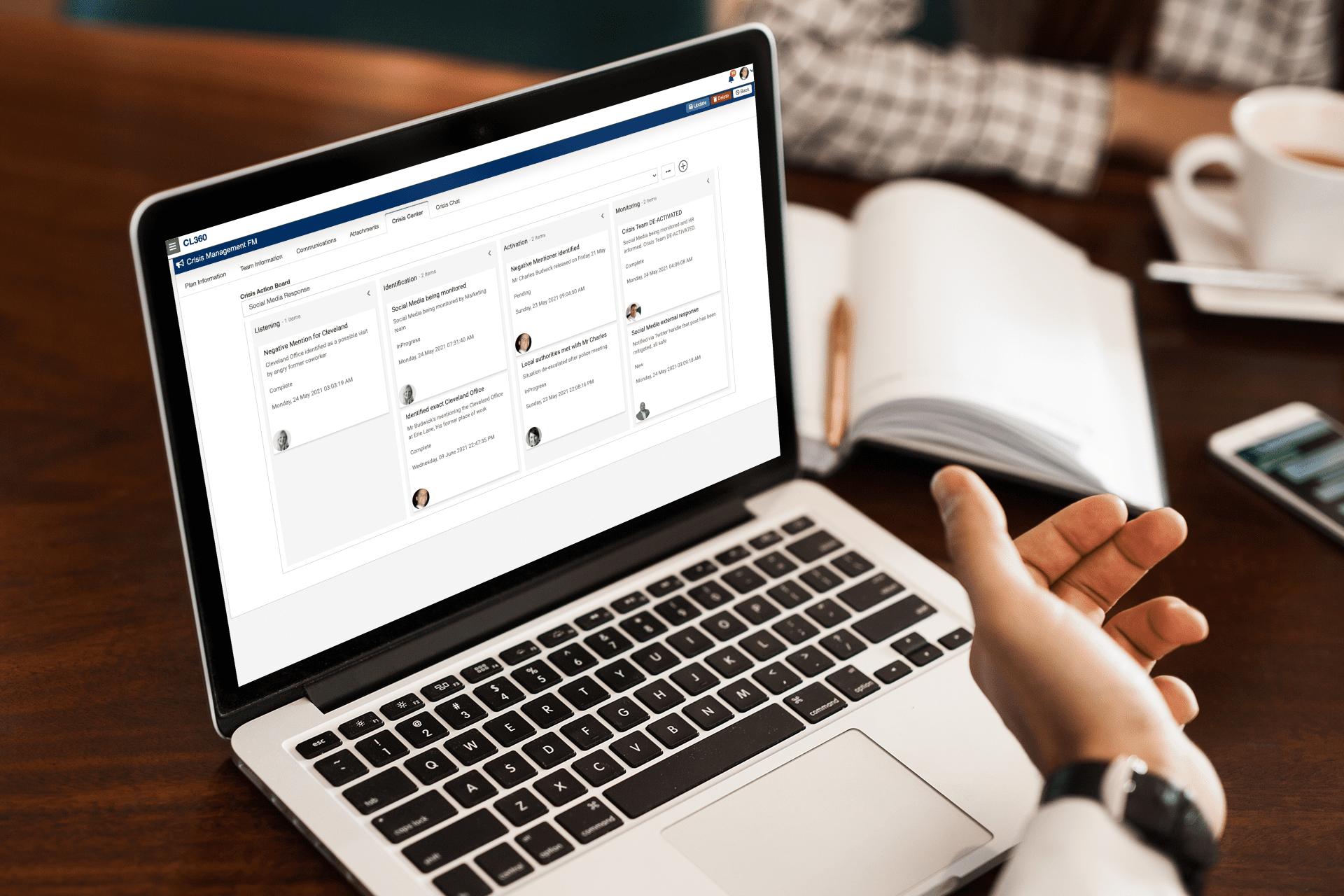 Privileged role-based access

Mobile-friendly situation reports

Crisis playbooks

Kanban boards
Built to provide intelligence and situational awareness during a crisis
The CL360 Crisis Management app creates a dynamic view of the enterprise with the lens of a crisis manager. With no coding, different tiers of crisis response can be nested at various levels of the enterprise and allow for roll-up communications and tracking. Local, regional, corporate, and other critical response teams have roles-based access, allowing them to provide relevant data and collaborate in support of event resolutions.
The CL360 Crisis Management app brings real-time data and teams together with a common operating picture. Meetings, actions, tasks, stakeholders, and milestones are all captured within the system which can generate alerts, notifications, activate playbooks, and publish situational reports easily. This provides an organized way to keep stakeholders up to date with action boards, chat rooms, and boardroom-quality output presentable on any device.